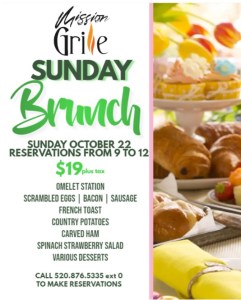 We're excited to invite you to a delightful culinary experience that will brighten up your Sunday: our Brunch Buffet Extravaganza at Mission Grille!
📆 Date: Sunday, October 22nd
🕘 Time: 9:00 AM – 12:00 PM
📍 Location: Mission Grille
🍳 An All-You-Can-Eat Brunch Spectacular! 🥓
Prepare your taste buds for a morning of indulgence, because our Sunday Brunch Buffet is here to delight your senses. For just $19 plus tax, you get access to a spread that will have your mouth watering.
Here's what's on the menu:
🍳 Scrambled Eggs
🥓 Bacon
🌭 Sausage
🍞 French Toast
🥔 Country Potatoes
🍖 Carved Ham
🌿 Spinach & Strawberry Salad
🍰 A Variety of Irresistible Desserts
But that's not all! We also have a live Omelet Station where you can customize your omelet just the way you like it. Imagine enjoying a made-to-order omelet prepared right in front of you. It's brunch magic!
🍽️ Secure Your Seat – Reserve Now! 📞
The Sunday Brunch Buffet at Mission Grille is an event you won't want to miss, and we want to ensure you have a spot at our bountiful brunch table.
Make your reservation by calling 520-876-5335 ext. 0. Hurry, as seating is limited and sure to fill up fast!
Gather your friends and family, and join us for a morning of culinary delights and great company. Mission Grille is the perfect place to relish a wonderful Sunday brunch.
We look forward to seeing you on Sunday, October 22nd, for an unforgettable brunch experience!
Best Regards,
Mission Grille Team
P.S. Don't forget to bring your appetite and a healthy dose of brunch enthusiasm! 🥞🥂🍳