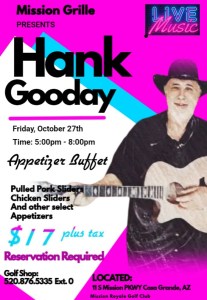 Ladies and gentlemen,
Get ready to kick up your boots and embrace the spirit of the Wild West because we have a thrilling event coming your way! It's a rootin' tootin' night of live country music, delectable grub, and a whole lot of fun that you won't want to miss.
Event Details:
Date: Friday, October 28th
Time: 4:30 PM to 7:00 PM
Location: Mission Grille, 11 S. Mission PKWY, Casa Grande, AZ
Price:
Just $17 plus tax per person!
Menu Highlights:
Pulled Pork Sliders: Dive into tender, flavorful pulled pork sliders with smoky barbecue sauce.
Chicken Sliders: Savor mouthwatering chicken sliders with a variety of delightful toppings.
Appetizer Buffet: Enjoy an all-you-can-eat buffet of select appetizers that will keep you coming back for more.
But hold on to your cowboy hats because the excitement doesn't stop with the food! We've got the talented Hank Gooday, strumming his guitar and belting out those heartwarming country tunes that'll have you hootin', hollerin', and two-steppin' with glee!
This ain't just a meal; it's a full-fledged hoedown! So, round up your posse, gather your friends and family, and mosey on down to Mission Grille on Friday, October 28th, from 4:30 PM to 7:00 PM for an evening of rootin' tootin' fun, flavors that'll make your taste buds sing, and live music that'll make your spirit soar.
For just $17 plus tax per person, you can snag a ticket to the wildest show in town. Reserve your spot today for an unforgettable evening that'll leave you shoutin', "Yeehaw!" Grab your boots, your appetite, and your sense of adventure—it's gonna be a hootenanny you won't want to miss!
We can't wait to see you there for an unforgettable night of live country music and fantastic food!
Best regards,