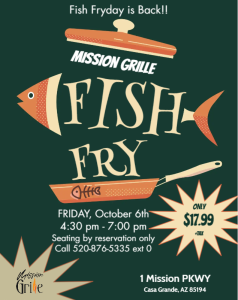 Reel in the Excitement: Fish Fryday is Back at Mission Grille!
Get ready to dive into the deep-sea deliciousness once again!
Whether you're a seafood connoisseur or simply craving some flavor, mark your calendars for Friday, October 6th – it's the day to savor a mouthwatering fish fry at Mission Grille.
Join us in celebrating the crispy, golden perfection of expertly fried fish, accompanied by a side of crispy fries and zesty tartar sauce. It's a harmonious blend of flavors that'll have your taste buds dancing for joy!
To secure your spot, RSVP by calling 520-876-5335 ext 0.
Hurry, seating is limited! Don't miss out on this fin-tastic feast!
#FishFryday
#MissionGrille
#SeafoodDelight
#BookNow