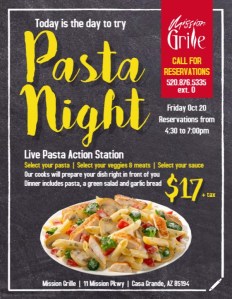 Dear Pasta Lovers,
Get ready to twirl your forks and savor the taste of Italy because Mission Grille is thrilled to announce an evening filled with deliciousness and excitement: Pasta Night Special Event!
📆 Date: Friday, Oct 20th  🕟 Time: 4:30 PM – 7:00 PM
📍 Location: Mission Grille (Mission Royale Golf Club)
🍝 Made-to-Order Pasta, Cooked Right in Front of You! 🍝
Picture this: a culinary experience that transports you to the heart of Italy, right here at Mission Grille. Our talented chefs will be at your service, creating mouthwatering pasta dishes before your very eyes. It's a feast for the senses, as you watch the magic happen, and the aroma of sizzling ingredients fills the air.
🌱 Choose Your Pasta, Veggies, and Protein 🥩
The power is in your hands! Customize your dream pasta dish by selecting your preferred pasta, an array of fresh veggies, and a protein of your choice. Whether you're a fan of classic spaghetti with marinara and meatballs or a vegetarian seeking a creamy alfredo with roasted vegetables, we've got you covered. Mix and match to create your pasta masterpiece.
🍽️ Reservation Required – Secure Your Spot Now! 📞
This Pasta Night event promises to be a culinary adventure like no other, and we want to ensure you have a seat at our pasta-filled extravaganza.
Reserve your spot by calling 520-876-5335 ext. 0 today!
Hurry, as spaces are limited and filling up quickly. Don't miss your chance to indulge in a night of pasta perfection!
So, gather your friends and family, and come join us for a night of laughter, great food, and wonderful company. Mission Grille is the place to be for all pasta enthusiasts!
Let's make memories and twirl pasta together on Friday, Oct 20th.
We can't wait to share this unforgettable evening with you.
See you there!
Bon appétit, Mission Grille Team
P.S. Don't forget to bring your appetite and your pasta-loving spirit! 🍽️